Wire Comb
This hair comb put your hair together gently with wire teeth which set equally and soft shape which fit your head.
We use materials, PL plating which is quite harmless since it touchs your body directly.
Materials
Main body

iron
We produce our hair comb knitting circle and flat iron wires using the upper iron after the order.
Metal plating

It's all made in Japan. You can see the difference because it does not peel off soon after using.
Paint

It's painted beautifully by craftsmen with more than 30 years' experience.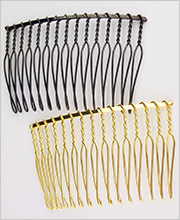 Non-straggling hair comb
You can bend it freely because it does not contain the flat iron wire. This product is all handmade. It will help you to make your hair perfect.
Call us for more information!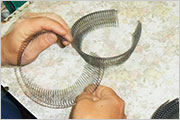 Order guide
We take wire comb order from 10 cases (1 case includes 10 wire combs).
It is possible to make various color combination.
Please click "Go shopping" below this page for your purchase.
(eg) Black plating wire comb (4 cases) + Silver color wire comb (6 cases) = total: 10 cases
Please send the defective goods back to us with shipping free and we re-send another one to you.
Please feel free to ask us if you have any questions.
*It is great helpful if you send the defective goods back to us as quickly as you can within 7 days after you notice it.
*You might recieve the parcel approximately about a week by the stock status.
Dear customers ordering wire combs of gold plating
Please contact us about the price of the gold plating wire comb because the cost price can be changed.
Note
Please be careful about the handling if you have allergic for metal or plating.
Please mind that child would not put goods in mouth.
number of wire teeth
Black painting*There gloss
Plating
*except gold plating
10 teeth
95 JPY
105 JPY
15 teeth
105 JPY
115 JPY
18 teeth
120 JPY
125 JPY
22 teeth
150 JPY
165 JPY
30 teeth
210 JPY
230 JPY
36 teeth
300 JPY
330 JPY
80 teeth
600 JPY
700 JPY