Wire comb with a clip
You can make your hair accessory easily with this useful wire comb with a clip like the photo below.
Not only floral decoration but also you can put anything you want if it can be attached to the clip.
Also, this clip is quick-release so that it is easy to change the accesaries!
In addition, this clip also has a safety pin. You can attach it everywhere you want (this product is patented).
Main body
We attached clip for decoration to the wire comb.
The way how to use is very simple. Please attach any decolation like flower to the changing comb, then wear it.
You can detach this clip from the wire comb so that you can attach the ornament to everywhere with the safey pin.
Part of decoration
You can attach it to whatever is attachable with clip.
There is some case you can not attach it depeding on weight of decoration.
We attach the floral ornament in the picture.
This good is not only hair accessory but also you can put it on your dress or anything you would like.
*Producing with business partner, SHINJU Ltd.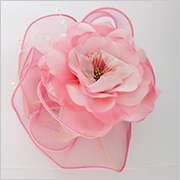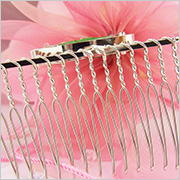 Order guide
We take wire comb with a clip order from 1 case (1 case includes 10 items).
Please click "Go shopping" below this page for your purchase.
Price: 1case(10 items) = 3,200JPY (include tax, NOT include shipping fee and extra-charge)
*This product does not include the flower ornament.
*We also sell the flower ornament separetely.
Please send the defective goods back to us shipping free and we re-send another one to you.
Please feel free to ask us if you have any questions.
*We would be highly appreciated if you send the defective goods back to us as quickly as you can within 7 days after you notice it.
*You might recieve the parcel approximately about a week by the stock status.
Note
Please be careful about the handling if you have allergic for metal or plating.
Please mind that child would not put goods in mouth.